Any workout instructor or coach will tell you that you have to stretch your body before participating in strenuous activity, and that is good advice.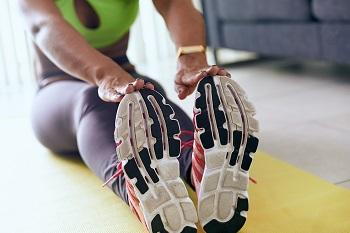 However, stretching isn't a cure-­all for all that ails your feet. Here are a few busted stretching myths that you may have been taught in physical education class as a youngster. The full truth can be found by making an appointment to talk to your podiatrist.
Myth 1: Stretching Prevents All Foot Injuries
Stretching regularly reduces the chance of injury to the feet, but it doesn't prevent injuries from happening altogether. Researchers at the George Institute for Global Health in Sydney found that stretching before physical activity doesn't really make a difference as to whether an injury will occur. Also, if you think that stretching before a workout will eliminate soreness the next day, that's also a myth. Stretching just gives you more flexibility and may help reduce the occurrences of serious sprains.
Myth 2: Even Stretching for Just Under a Minute Helps
Many people who stretch before a workout or sports game only do so for a few moments before jumping full­speed into the activity. But studies have shown that stretching for just 30 to 45 seconds is not enough to make a significant effect on the flexibility of muscles and joints in your feet. Stretching longer (at least five to 10 minutes) is a better idea. Some experts suggest that simply easing slowly into the activity may even be more helpful than stretching in some cases.
Myth 3: Stretching Will Heal the Muscles and Joints
Some patients neglect to visit their doctor when they have foot pain because they believe that simple stretching will heal torn or sprained ligaments. Stretching is a way of making your joints and muscles more flexible, but it does not heal them. Additional treatments and therapies are necessary to successfully heal torn, damaged or inflamed body parts.
These myths busted should not discourage you from stretching your feet and other body parts—just know that you shouldn't think of it as a replacement for professional care and advice from a qualified podiatrist. If you're an athlete having foot pain or complications, schedule an appointment to discuss the issue with your podiatrist today.